Organising a letter-writing campaign
Tips for community groups about running a letter-writing campaign.
What is a letter-writing campaign?
A letter-writing campaign is an organised effort to coordinate as many people as possible to write to a decision maker (e.g. a Councillor, MP or Minister), asking them to take a particular action.
Is letter-writing a useful tool for your campaign?
Letter (or email) writing is most useful if used as part of a well-planned wider campaign strategy. It can help show that people feel strongly about an issue, and this puts pressure on decision makers.
Before starting your campaign, think through:
What's the problem you want your campaign to address?
What's the solution to this problem? Do you think it is possible to make this happen quickly?
If the ultimate solution is unlikely to happen, are there smaller changes that are more achievable?
Who has the power to make the change(s) you want to see?
How will you put pressure on these people to make the change(s)?
What change(s) would make your campaign a success?
Macmillan have a useful guide to campaigning for small local groups. We have information to help you write a campaign briefing, organise a petition, write a news release and organise a public meeting.
Planning your letter-writing campaign
Before asking people to write letters, you should decide:
Who will the letters be sent to? Make sure this person has the power to make the decision you are asking for.
What action do you want the decision-maker to take?
Who will care enough to write a letter? Who should you ask, and how will you get in touch with them?
Who is the decision-maker most likely to be influenced by?  E.g. local Councillors are more likely to be influenced by their own constituents. Companies are more likely to be influenced by their customers.
Quality vs quantity
Letter-writing is most effective if each letter shows that the person writing it really cares about the issue. This comes across better if everyone writes a letter in their own words.
However, letter-writing campaigns are also more likely to be successful if the target receives a large number of letters. It can be easier to get people to send letters if you provide the letter and just ask them to sign it.
The key to running a letter-writing campaign is getting the right balance between these two priorities.
What to put in your letters
Individual unique letters
Letters written in people's own words show that they really care about the issue. They look less like a coordinated campaign, and more like people have independently decided they care enough to write a letter.
This can be very powerful and persuasive. It is especially important that letters are individualised if the recipient will only receive a few letters. If you don't have time to engage lots of people, make sure any letters sent are heartfelt and genuine.
Think about who is likely to take the time to write letters. Do you have contacts who are likely to support your cause? Do you have links with other groups who might ask their members to write letters? Could members of your group ask their friends and neighbours to write letters?
When asking people to send their own emails or letters, you should provide them with:
A briefing sheet with key points to make in their letter. This should include:

A clear, concise demand. What is the sender asking the recipient to do?
A small amount of background information to back up the demand.

An example letter, but encourage people to use their own words.
The contact details of the person you want them to write to. Councillors, MPs and MEPs can be emailed directly via writetothem.com. Contact details for MPs are on the parliament website and for Brighton & Hove City Council on their website. Encourage your supporters to write hard-copy letters if possible. Some decision makers, especially MPs, receive a huge number of emails and are unlikely to read them all.
The downside of asking people to write their own letters is that it is more difficult and time-consuming, so it's harder to get people to do it. If you are aiming to get hundreds of people to send letters, it might be better to provide something for them to sign and send.
Standard letters, emails or postcards
It is easier to get a large number of people to send letters if you provide them with the letter and just ask them to sign it. A standardised letter-writing campaign can be powerful if a large number of people take part, but can look a bit weak if only a handful do. Only use standardised letters if you are going to put a lot of time and energy into making sure a significant number of people send them.
The simplest ways to organise standardised letter-writing campaigns is to produce postcards for people to sign, or create standard emails for people to send from their own email address.
A standardised letter/email/postcard should include:
The recipient's name and address
A clear, concise demand. What is the sender asking the decision-maker to do?
A small amount of background information to back up the demand. This should be no more than two or three short sentences.
Space for the sender's name and postcode. (People might not know who their Councillor or MP is, but if you have their postcode, you can find out by putting the postcode into writetothem.com).
Postcards are more effective if they also include a space for the sender to add their own comment or reason for concern. But only add this if you are confident people will use it. A blank comments box is worse than none at all, because it comes across that the sender doesn't really feel very strongly about the issue.
Standardised emails
Providing a standard message people can send in an email enables them to send off a letter very quickly, without having to think about what to write. However, emails are easier for decision-makers to ignore. A few emails in a very busy inbox are unlikely to have a big impact. Emails are more likely to be effective with a local decision maker, such as a Councillor, than a minister or MP who may be receiving thousands of emails every day.
To get a large number of people to send emails, you need a large mailing list. Contact your mailing list with:
Brief background to the campaign
Who you want them to email and why
Text they should put in their email
Email address to send it to
Some email programmes, such as MailChimp, will allow you to build a link to a pre-written email for your supporters to send. All they have to do is click the link, and their email programme will open up with an email ready to send off.
Signed postcards
Providing postcards is a way to make letter-writing very easy for the sender. It's best to get people to sign the postcards, then you gather them all up and post them. This ensures they actually get sent.
You could organise a postcard campaign by holding street stalls, going door-to-door, or attending events at which you are likely to find a large number of supporters. Whichever way you do it, we suggest you:
Have as many volunteers as possible.
Make a large sign if you are holding a stall in the street so people know why you are there.
Produce a briefing sheet for volunteers so they can respond to any queries.
Print flyers explaining what the campaign is about, giving the contact details for your group and inviting them to get in touch and get involved.
Have a separate form for the contact details of people who want to receive more information or get involved, so you can add them to your mailing list.
Have a date by which the cards have to be returned to a central person or place, to be sent off. Give yourselves time to contact volunteers who do not return them on time.
If your group is based in Sussex you can print postcards, fliers and posters in the Resource Centre print room. We also have folding tables, a free-standing sign and clipboards available for hire.
Here is an example postcard: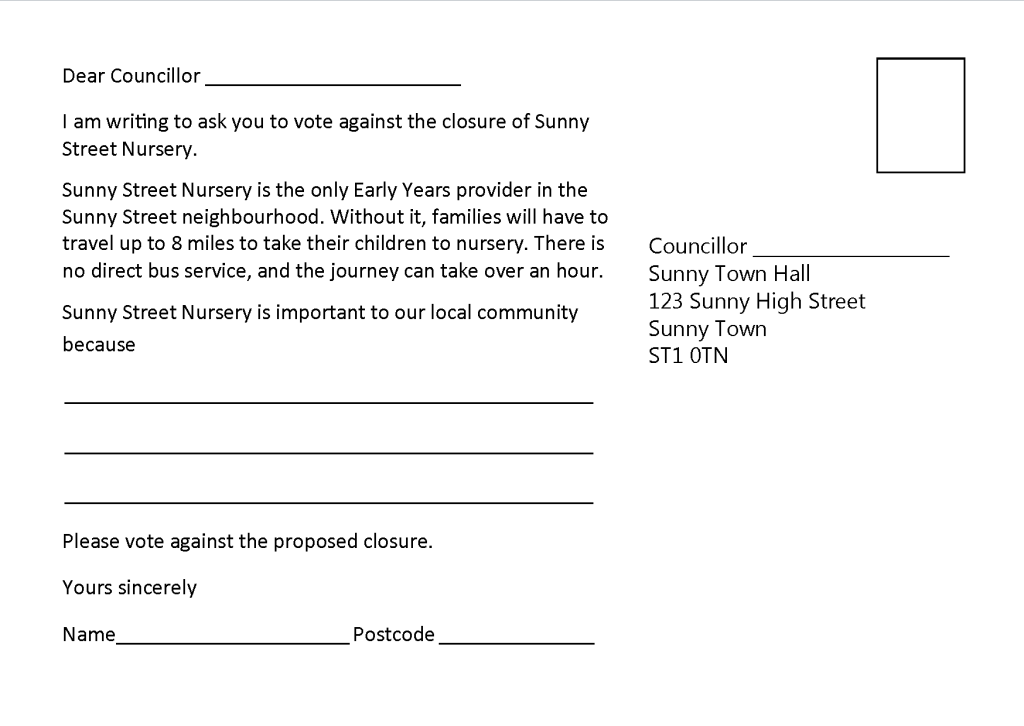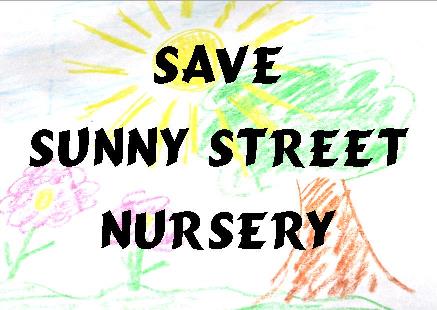 More information
For more information about running campaigns, see our pages on:
Page updated October 2018