Card readers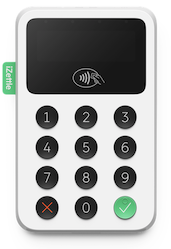 Zettle Reader 2 model. We have 3 sets available for hire. There are 2 card readers per set.
You will need to set up a Zettle account for your group in advance (if you don't already have one), and install the Zettle app on the devices you want to connect the card readers to.
Connects to smart devices (phone/tablets) via Bluetooth.
You will need access to 3G, 4G or WiFi to be able to use the card readers.
The card reader accepts following payment types: contactless, Chip & PIN, Apple, Samsung and Google pay.
Battery life after full charge: 8 hours.
The card readers come with little dock stands (for socially distanced payments) but they can also be used without, making it easier to carry around.
Useful for taking payments and donations at events and stalls.
Instructions_how to use card readers.
More information about Zettle here. And Zettle's fees here.
Price
£1.90 per set
Dimensions for transport
21cm x 15cm x 10cm
Dimensions in use
9cm x 14cm
We supply
2 x card readers
2 x dock stands
2 x micro USB cables
You need
Zettle account
Access to 2 smart devices (per card reader) with Zettle app installed
Access to 3G, 4G or WiFi network
USB charger
To make a booking request for this item of equipment, click Add to basket. When you have added all the things you want to book, click View Basket to complete your booking request. If you prefer, you can also book equipment by calling us on 01273 606160 or emailing us.