Multi target
A giant, circular velcro target. Throw balls and get them to stick to win points!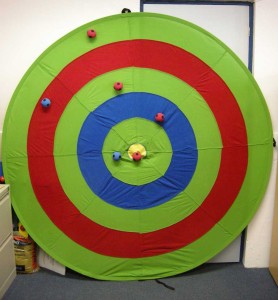 Price
£3.75 for up to one week
Dimensions for transport
75cm x 75 cm x 5cm
Dimensions in use
190cm x 190cm x 1cm
We supply
Circular velcro "loop" multi coloured target (190cm across)
Velcro "hook" black and red target (50cm across)
12 Velcro "loop" balls
12 Velcro"hook" balls
You need
A wall or floor space at least 2 metres across to put it on, and enough space to stand and throw balls.
To make a booking request for this item of equipment, click Add to basket. When you have added all the things you want to book, click View Basket to complete your booking request. If you prefer, you can also book equipment by calling us on 01273 606160 or emailing us.