Popcorn Machine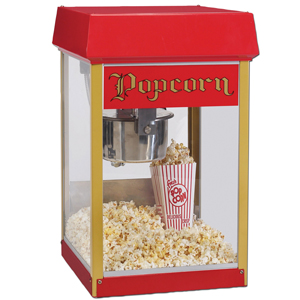 You need to supply your own corn for popping, oil, salt and/or sugar. We have bags available on sale or return.
We recommend that you do a risk assessment before using the Popcorn machine. We have a sample that you can download at: Popcorn Machine Risk Assessment (PDF) or Popcorn Machine Sample Risk Assessment (Word).
Price
£21 for up to one week. Popcorn bags available on sale or return: £2.50 per 25
Dimensions for transport
W: 40cm, D: 43cm, H: 61cm
Dimensions in use
W: 40cm, D: 43cm, H: 61cm The machine is heavy and awkward. You will need two people to carry it.
We supply
Popcorn machine
Extension reel and power breaker
Box with oil measure, popcorn measure, sugar / salt measure and scoop for popped corn
Soft cloth for cleaning machine
Popcorn bags (on sale or return)
Instructions
You need
Mains power supply OR dedicated 1.5kw generator (earthed)
A table
Popping corn (available from supermarkets)
Salt or sugar
Popcorn bags
Vegetable oil
A car to transport it. A trolley is NOT suitable.
Two people to collect and return it.
To make a booking request for this item of equipment, click Add to basket. When you have added all the things you want to book, click View Basket to complete your booking request. If you prefer, you can also book equipment by calling us on 01273 606160 or emailing us.