Water Boiler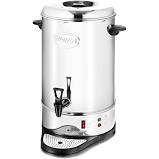 4 water boilers available.
Water boiler 1:
20 litre capacity / Wattage:3000
Water boilers 2 & 4:
20 litre capacity / Wattage:2200
Water boiler 3:
18 litre capacity / Wattage:3000
Price
£5 for up to one week
Dimensions in use
No.1, 2 & 3: Height 50cm; Diameter 25cm; 160W No.3: Height 40cm; Diameter 30cm
We supply
Mains powered water boiler
Glass jug for milk (optional)
You need
Power supply
Table to put it on
Allow plenty of time for it to come to the boil before the start of your event
To make a booking request for this item of equipment, click Add to basket. When you have added all the things you want to book, click View Basket to complete your booking request. If you prefer, you can also book equipment by calling us on 01273 606160 or emailing us.