Data projector (Epson)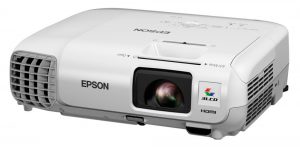 We have 3 Epson multimedia projectors which are of a similar spec. If you would like a very small, portable data projector with bluetooth/WiFi that also runs on rechargeable batteries (3 hours), please see our Nebula Solar projector.
These data projectors can project images/video onto a screen directly from laptop or DVD player – these can be hired from Resource Centre, or you can use your own equipment.
They all have a wattage of approx 240W.
Specifications:
Data projector 1:
Epson EB-X49
Brightness:  2,400/3,600 lumens
Sound: 5W inbuilt speaker*
Ports: VGA; S-Video; AV (red, white & yellow plugs); HDMI; USB; Ethernet
Weight: 2.7kg
Data projector 2:
Epson EB-E20
Brightness:  2,200/3,400 lumens
Ports: as above, but no Ethernet
Everything else as DP1
Data projector 4:
Epson EB-X20
Brightness:  1,890/2,700 lumens
Weight 2.6kg
Remote control can move presentation slides forward/back, when connected with USB cable
Everything else as DP1
These data projectors connect to computers through a VGA port, an HDMI port or a mini-HDMI port. PC laptops should have one of these. Mac users may need an adaptor – ask us for our optional Mac adaptors kit.
We can provide a SCART adaptor for connection to a DVD player if needed.
*We have additional small speakers that are suitable for an audience of around 30 people. Please tell us when you collect your equipment if you would like one of these with your projector.
The projected image size for all these projectors is: 100 x 76 cm at 1.5m to 300 x 230 cm at 5m.
Price
£21 each for up to one week
Dimensions for transport
42cm (W) x 30cm (D) x 16cm (H)
Dimensions in use
Approx 30cm (W) x 30cm (D) x 10cm (H)
We supply
Carrying bag containing:
Projector
Cables to connect to computer, video/DVD, speakers or PA
Remote control
Instructions
Extension reel and power breaker
Small portable speaker to enhance sound (optional)
You need
Proof of ID on collection.
A table or stand to put the projector on.
Power supply
Time to set up the projector before your event.
A screen (which you could also hire from us) – please ask when making your booking
To make a booking request for this item of equipment, click Add to basket. When you have added all the things you want to book, click View Basket to complete your booking request. If you prefer, you can also book equipment by calling us on 01273 606160 or emailing us.