Carbon dioxide monitor
A carbon dioxide monitor can be used to assess how well a room or space is ventilated. This can be helpful when doing a Covid-19 risk assessment.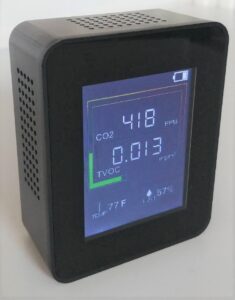 Price
1.90 for up to a week's hire
Dimensions for transport
in pencilcase 32cm x 13cm x 5cm
Dimensions in use
6.8cm x 8.8cm x 3.4cm
We supply
Carbon dioxide monitor
Charging cable and plug
Instructions
To make a booking request for this item of equipment, click Add to basket. When you have added all the things you want to book, click View Basket to complete your booking request. If you prefer, you can also book equipment by calling us on 01273 606160 or emailing us.