Spin the wheel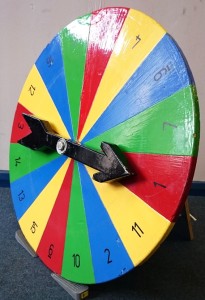 'Sell' numbers two at a time. If a player's number comes up, they win a prize. You don't need to sell all the numbers before spinning the wheel, but more players make the game more exciting.
Price
£7 for up to one week
Dimensions in use
Diameter: 65cm, D: 12cm
We supply
Circular board with spinning arrow.
Laminated cards showing all the numbers on the wheel (2 numbers per card).
Sheet with suggested rules and charges.
Vinyl banner
You need
Table
Something to lean the wheel against so it can be seen by players.
To make a booking request for this item of equipment, click Add to basket. When you have added all the things you want to book, click View Basket to complete your booking request. If you prefer, you can also book equipment by calling us on 01273 606160 or emailing us.