Pick a lolly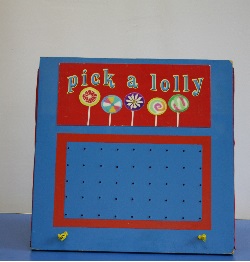 Popular game of chance for fetes and fairs. Each lolly stick has a coloured tip, and different colours mean different things e.g. if you pick a lolly with a red tip, you get another go; a lolly with a blue tip wins you a prize; and a lolly with no colour has no special meaning but you get to keep the lolly. Everyone is a winner!
Price
£7 for up to a week's hire
Dimensions for transport
60cm H, 60cm W, 4cm D
Dimensions in use
58cm H, 60cm W, 38cm D
We supply
Lolly holder (freestanding A-board, designed to go on a table)
Instructions
You need
Table
Approx 100 lollies
Other prizes for winning lollies (search for Prizes to find cheap suppliers)
To make a booking request for this item of equipment, click Add to basket. When you have added all the things you want to book, click View Basket to complete your booking request. If you prefer, you can also book equipment by calling us on 01273 606160 or emailing us.