Data projector (Nebula Solar, 400 lumens) – small, runs on batteries
This is a small, highly portable and compact data projector. It runs on rechargeable batteries, and has 3 hours of battery life. Best used in a dark room/space. Suitable for a small audience.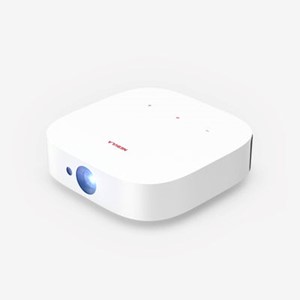 If you require a more powerful, high resolution data projector, you may prefer to book one of our other projectors.
Specifications:
Brightness: 400 lumens
Resolution: 1920×1080 (16:9, FHD)
Projection size: 1m to 3m: 3m at 3.18m; 1m at 1.05m
Operating system: Android TV 9.0
Sound: Dolby Digital Plus& 2x3W
Ports & connections: HDMI, USB, Bluetooth, Wi-Fi, and Chromecast
Weight: 1.3kg
This projector can be connected to a laptop via an HDMI lead (supplied). The Resource Centre also has laptops for hire. Alternatively, you can plug in a USB external storage device. Also has access to online streaming services, provided you have a WiFi connection, and have a log-in and password (please ensure you log yourself out before you return the projector).
We also have screens for hire.
Price
£21 each for up to one week
Dimensions for transport
31cm (W) x 24cm (L) x 9cm (H)
Dimensions in use
19.2cm (W) x 19.2cm (L) x 5.5cm (H)
We supply
Projector
Carry case
Charging plug & lead
Remote control & spare batteries
HDMI lead
You need
A table or stand for the projector
A screen or white wall/sheet to project onto (we have screens for hire – please tell us if you'd like to book one)
To make a booking request for this item of equipment, click Add to basket. When you have added all the things you want to book, click View Basket to complete your booking request. If you prefer, you can also book equipment by calling us on 01273 606160 or emailing us.