Roll a penny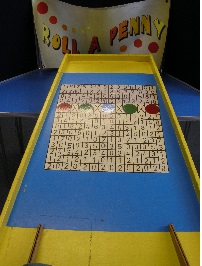 Roll pennies up the slope of the board. The higher up the chute you start, the further your penny will roll. Add a nought to the number the coin lands on, to give the amount of money won. For example – land on 4, win 40p. Lucky 7 wins a prize.
Price
£7 for up to one week
Dimensions in use
W: 90cm, D: 137cm, H: 7cm
We supply
Board (slightly sloping).
2 wooden chutes.
Sheet with suggested rules and charges.
Vinyl banner (only one banner available)
You need
Large table.
Pennies for rolling.
Car to transport it.
These games are quite awkward to carry – easier with two people.
To make a booking request for this item of equipment, click Add to basket. When you have added all the things you want to book, click View Basket to complete your booking request. If you prefer, you can also book equipment by calling us on 01273 606160 or emailing us.