How we are funded
Like everything in 2020-21 our income and expenditure were heavily affected by the Coronavirus epidemic. We give the year's details below but for a picture of a more normal year it is worth also looking at the page for 2019-20.
In summary, this year saw income from our own services reduce substantially due to lockdowns and to lower community activity. However, we were able to offset this by use of the HMRC job retention scheme.
On the expenditure side we had additional costs to make the building safe and to allow staff to work from home. A generous grant from the National Lottery Communities Fund covered these costs and enabled us to buy print equipment to improve our service to groups.
Taking all this together we have a surplus on 2020-21. This stabilises our position and means we have a cushion going into 2021–22 which will clearly be another difficult year.
Income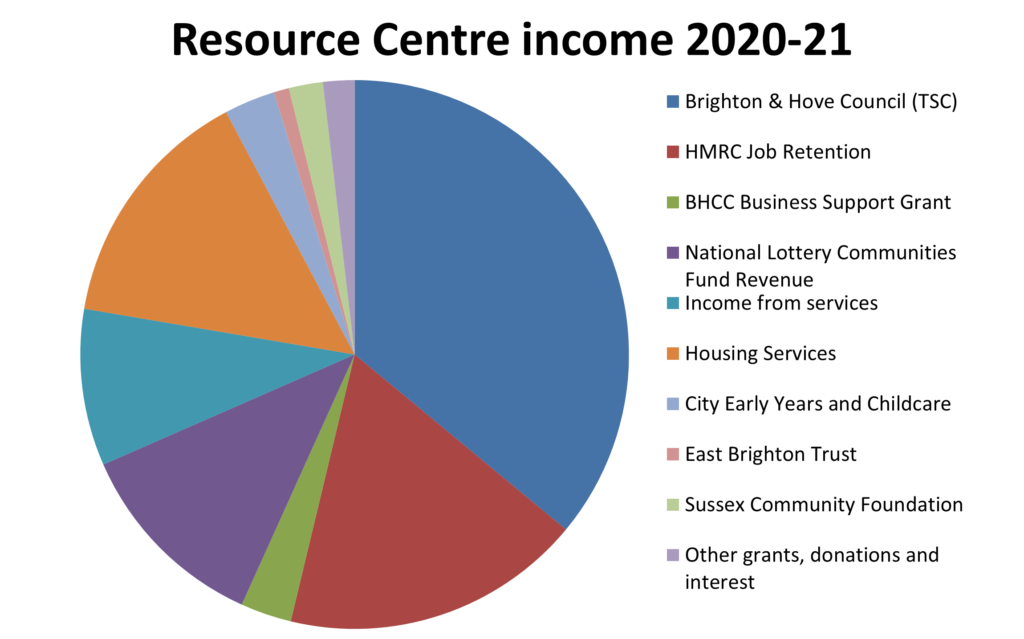 Our total revenue income for the year was £249, 535. This was around 25% higher than the previous year. (We also had capital income of £29, 255 but this is not shown in the graph or percentage breakdowns below.)
As always the core of our income came from regular grants and contracts
This was the first year of the Third Sector Commissioning (TSC) programme funded by Brighton and Hove Council. We received £89,853 from TSC, 36% of our total income. This council funding, which normally funds our front desk drop in service for groups, is always really important to us. This year it was particularly vital as it allowed us to recast our services to respond quickly and flexibly to the new needs of groups, and to emerging groups, as the situation developed. We are really grateful to the council for allowing flexibility in the use of this funding.
The other key regular funding stream was our contract with Housing Services. At £36, 347 this comprised 14.6% of our income. These funds allowed us to provide free advice and support to tenants' associations and secretarial support for their participation in the Resident Involvement structure.
We offer free advice and support for early years and childcare settings in the most deprived neighbourhoods of Brighton & Hove. This work is free of charge to the groups, and is funded by a contract with City Early Years and Childcare. In 2020-21, this funding accounted for 3.0% of our total income (£7,500).
As well as these regular grants and contracts we received substantial support from funds specifically designed to help during the pandemic
We claimed £44,259 (17.7% of total income) from the government's job retention scheme. This enabled us to furlough staff while service income was restricted, preserving jobs and allowing us to keep our experienced staff.
We received £7,500 (3%) in BHCC Business Support grants, offsetting some of the exceptional expenditure required by the crisis.
We were grateful to receive a crisis grant of £5,000 (2%) from Sussex Community Foundation. This supported our intensive support to groups in communities most affected by the pandemic.
Finally, we received £4,627 in miscellaneous donations and bank interest, and carried £2,250 into the year of monies received in 2019-20 from East Brighton Trust. Together these made up 2.85% of total income.
Expenditure
Our total revenue expenditure for the year was £219, 908. (We also spent £29, 255 on capital equipment.)
We would normally allocate costs to our various services – equipment service, information, support to tenants etc – based on actual expenditure on that service and the proportion of staff time.
The exceptional nature of events means such a detailed breakdown is simply not possible for this year. Even so it is worth noting a number of points.
As always staff costs, at £173, 249 made up by far the largest part (79%) of our expenditure.
Of this around a third (£57, 266) was the cost of staff on furlough. We reclaimed 77% of these costs from the job retention scheme and paid the remainder from our Lottery grant. We also spent £78, 255 on staffing our front desk and print service and £30, 895 on staff to support to tenant associations.
In terms of the breakdown of total costs we continue to ensure that a high proportion (88%) of our expenditure goes on direct service provision with a relatively small amount (12%) being spent on administration and running costs.
Looking at running costs the most notable point is that we spent £12,162 on premises. This is 6% of our total expenditure and almost double what we spent in the previous year. It reflects work carried out to make the building safe for users and staff.
Full details of our income and expenditure are in our 2020-21 annual accounts which were approved at our AGM on 3rd November 2021.
Last updated: November 2021