2022 Survey results and resident involvement report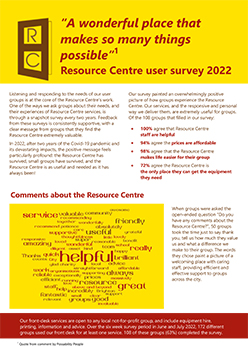 Our 2022 survey was carried out for six weeks in June and July 2022. Our analysis and conclusions from the survey are in this report (PDF, 438kB).
In early 2022 we also interviewed key activists from Residents Associations across the city. We aimed  to understand how active Associations were; how they were emerging from COVID; and what support they needed. We combined this a report on all our work with Residents Associations from April 2021 to September 2022 which you can view here: Responsive, reflective and practical integrated support: Resource Centre support for resident involvement April 2021 – Sept 2022 (PDF, 430kB).
Below are the full results of our 2022 survey and all comments made by groups (anonymised).
Contents
What groups think of the Resource Centre
Overall satisfaction
| | | |
| --- | --- | --- |
| | No. of groups | % |
| Very satisfied | 101 | 94 |
| Satisfied | 5 | 5 |
| Not very satisfied | 1 | 1 |
Experience of using the Centre
| | Strongly agree | Agree | Disagree | Strongly disagree | Don't know |
| --- | --- | --- | --- | --- | --- |
| The staff are helpful | 100 | 8 | – | – | – |
| The prices are affordable | 86 | 15 | 1 | – | 5 |
| The RC makes life easier for our group | 91 | 14 | 1 | – | 1 |
| It's the only place we can get the equipment we need | 55 | 22 | 9 | 1 | 20 |
Satisfaction with the equipment hire service
| | Very satisfied | Satisfied | Not very satisfied |
| --- | --- | --- | --- |
| How satisfied were you with the equipment booking process? | 39 | 8 | 0 |
| How satisfied were you with the quality of the equipment? | 36 | 10 | 0 |
Satisfaction with the print service
| Please rate your experience using the Resource Centre print service | No. of groups | % |
| --- | --- | --- |
| Very satisfied | 41 | 91 |
| Satisfied | 4 | 9 |
| Not very satisfied | 0 | 0 |
Satisfaction with advice and information services
If you used our advice or information services in the last 12 months…
| | Very useful | Useful | Not very useful | Can't comment |
| --- | --- | --- | --- | --- |
| How useful was the information you received? | 14 | 3 | 1 | 1 |
| How useful was the advice you received? | 11 | 0 | 0 | 0 |
About Resource Centre user groups
How many people regularly come to your organising meetings?
| | 1-5 | 6-10 | 11-25 | Over 25 |
| --- | --- | --- | --- | --- |
| No. of groups | 20 | 31 | 19 | 21 |
| % | 22 | 34 | 21 | 23 |
How many people benefit from the work your group does?
e.g. people who come to your events, or people who use the services you provide.
| | 1-25 | 26-100 | 101-500 | Over 500 |
| --- | --- | --- | --- | --- |
| No. of groups | 4 | 18 | 40 | 30 |
| % | 4 | 20 | 43 | 33 |
Other details about your group
| | No. of groups | % of groups |
| --- | --- | --- |
| Is your group based in Brighton & Hove? | 90 | 97 |
| Is your organisation mostly run by volunteers? | 70 | 77 |
| Has your group received a grant from Brighton & Hove City Council in the last 12 months? | 26 | 28 |
| Has your group used information, advice or practical help from other organisations in the city in the last 12 months? | 53 | 58 |
What does your group do?
Supported housing for the homeless
Local people acting together to promote sustainable living in Hanover
Works with 50+ age group running activities yo reduce isolation, engender social engagement and support community engagement
Arts and heritage
Provide affordable food
Organise a street party
Solidarity with Ukraine…basically looking out for Ukrainian lesbians mostly given the law of Ukraine and helping to get them started. Also supporting Ukraine efforts generally.
support single parent families
We are a network of almost 100 community action groups working across Oxfordshire to make it a safer, fairer, greener, more sustainable place to live, work and visit.
Equipment for street party
Recently formed sponsorship group for a refugee family
The main areas that link with the resource centre are school workshops, holiday activity programmes and fun days in local parks for the local young people.
RHF supports people affected by hate incidents based on race and faith
Peer Support for those struggling with or affected by substance addiction
Support People with Lupus
Fundraisers for a primary school
We provide information, friendship and support to parents and carers of children with special and/or additional needs and disabilities.
It's a Food Bank, Coffee Morning & Advice Centre
Support homeless
We help look after the park with litter picks and weeding and involve the community.
We're a volunteer run community cycle workshop. We support people to fix their own bikes and we refurbish donated bikes for resale.
We aim to enable more people to get on a bike and stay on a bike affordably and to build a community of people who get around by bike.
Street party
Union activity
Amenity/conservation society
we support community groups
Play reading; History group; Poetry group; Music appreciation; Art appreciation; French conversation, book club and more – all run by local people on a voluntary basis.
We help homes and businesses to lower energy bills and carbon emissions
Works in partnership with Brighton and Hove City Council to make ongoing improvements to Queens Park for the benefit of the community.
raising awareness about vulnerability of cyclists, climate change, body positivity and our dependency on fossil fuels
Gives free English lessons to asylum seekers and refugees
Have meetings and other events to inform people about Cuba Solidarity Campaign and to express solidarity to Cuba via fundraising.
Campaigns on equality, human rights and environmental issues from a female perspective. We are a campaigning Peace and Human Rights organisation working from a female perspective and anaysis, supporting work to end war and involve women in peace negotiations amongest other things.
Community garden
We have a community garden.
We support local people facing unemployment and other issues with basic services (food, advice, classes and more) and a community space where they can feel safe.
Creative Writing for children and young people
We bring our community together to reduce the feeling of loneness.
We support ourselves in the struggle to resolve our immigration cases.
Education
A sports and social group for people with sight loss
Provide quarterly newsletters to its members and medical professionals for those interested and affected by ME/CFS
We organise events and activities for the residents in Craven Vale and adjoining streets; and try to resolve any problems (such as drug-dealing!).
We also look after the 'green' areas around us by planting and looking after trees, bedding plants etc.
We are a community benefit society.
Help people into work and help people with digiatal inclusion and much more
We represent the residents of Coldean on issues arising within the community, liaising on their behalf with the Council and other bodies, organising group petitions etc as necessary, and we produce the Coldean Newsletter.
We are a social supermarket provding afforable food for hosehold on low incomes.
It's a residents association. We try and make improvement on their behalf.
We support community groups around B+H, including signposting/supporting at RC
We raise funds for our local green spaces.
LGBTQ+ Information and support. Dementia and older persons service, disability and neurodivergence group, trans link social prescribing, helpline, community engagement, domestic abuse service.
Support young homeless people
Youth work
We work with young people and as venue for community events and activies
Community education.
Youth football club
Support residents and families with the building – St James House
We all friends here in Brighton collaborate, celebrate our traditional festivals, get togethers, parties etc.
We are a small charity working to prevent newborn baby deaths
Football club and charity
Community Centre
community cohesion – traders, residents, Councillors, Police, service providers … to make London Road  better place
Church
Production community resource
Events and Fundraising
Fun food activities from "seed to plate" with our citywide community delivered meal service, free cookery classes & lunch clubs , allotment & community events
We're a local charity that has several different services. For the most part we use the RC for supporting events such as our AGM or volunteer parties.
Provides mediation and conflict resolution services
Community engagement/funding events
Pastoral care in the community
pantos & plays.   All free for participants from 4 to 92 in age in the community.
CPD for Counsellors and Psychotherapists
Education
Free art workshops/events in East Brighton. We are completing a mural in North Whitehawk. Art groups
Organise support and campaigns for women in Brighton. Single-sex discussion groups. Monthly women-only gatherings for mutual support and discussion. Campaigning on policy issues affecting women.
It campaigns against privatisation in the NHS and for the NHS to be a publicly funded, provided and run service. We produce leaflets, have events, films, marches, public meetings, etc.
Campaigns for health care for migrants
Raise money for primary school
PTA – school events and fundraising
School PTA.
Hold events for parents/carers of the children at Stanford Infants to raise funds to support the school.
Adoption group
Street party organisation
Community neighbourhood group – bringing people together with no barriers
Raise money for Elm Grove Primary School
Fundraising for large nursery school
Support the school in fundraising events eg Xmas and summer fair
School events and fundraising
PTA
raises money for West Hove Infants School
We are a PTFA for Coldean Primary School – we raise money for the school and organise fun activities and support the school in any way we can.
Health engagement
We are a statutory organisation, the independent champion for people who use health and social care services in the city. We're here to make sure that those running services, put people at the heart of care.
We raise funds for projets to support NHS staff, patients and volunteers.
Weekly 5 clubs accross the city for 7-11 year olds as well as overseeing 3 youth groups for 11-18 year olds in term time. We are a Christian based charity but welcome everyone no matter what their belief. We run 3 greatly reduced residential trips throughout the year which benefits many children from deprived areas of the city. Many of who this is their only holiday.
Meetings and community events
How has Covid affected your group's activities?
a lot
Have been able to hold fewer events which has reduced the group's visibility, and in turn has affected the group's output/impact
Originally we delivered face to face activities and due to the pandemic had to find ways of delivering activities to continue reducing isolation and promoting social engagement as well as providing practical help such as shopping and befriending services.
It has also resulted in us having a much more focused approach on Digital support for our members.
We've moved a lot of it online
Cancelled last years street party
covid was before war in Ukraine.
isolation has been hard for parents already on their own but cutting out their wider network; everything has been remote
Many of the grassroots groups we support have suffered from lack of resources and funding. That said, we've seen an increase in the number of active groups and more volunteers engaging with environmental and social justice issues.
No
We've not been directly impacted on delivery other than not being able to access resources from the centre to support the programmes we run.
Covid has had a major impact on our organisation. we could not provide the services that we used to as we had to be in close contact with the clients and one of our campaigns was interrupted and we could not lead the activities the way we planned to
We had to close our walk in support Cafe. However we still worked on groups as we offer support. We now hire space in the community
Yes, we have not been able to meet since March 2020
Not been able to hold group events, on be on the school premises, this has drastically reduced the opportunities we usually would have to hold event and fundraise for the school.
We had to move our coffee mornings online and this excluded many people who didn't have digital access and/or help with childcare. We tried to maintain phone contact but without the face to face contact some of the parents and carers we were supporting fell off the radar. We weren't able to organise our annual social event either. We have had to re-start our efforts to build up awareness of our group and to re-build relationships and  local networks.
We haven't opened the Coffee Morning side of the Food Bank since Covid .
Didn't operate
It did during lockdown, but not now.
It has helped us to attract more high calibre volunteers, has increased demand for our services and has enabled us to attract more funding.
It has helped us to reach many more people and be more effective than ever.
It hasn't
No face to face activity during lockdown, decreased membership but now recovered
No personal meetings but much of our work can be done on line so it hasn't been too bad.
now much more back to normal in general
Only in that we moved to zoom for most groups.
Reduced our ability to meet people who are at risk of fuel poverty as many community centres and foodbanks closed during the lockdown (or at least stopped inviting clients into the premises)
We couldn't run fund much loved raising events in the park or volunteer clean up days so we are short of cash and have double the work to do.
we had to cancel one of our main events  back in 2020 and had to have meetings online . we weren't able to run any fundraising events  either for two years
We have had to reduce numbers for face to face teaching and started doing more online
We have only met outdoors and no inside meetings have taken place for over two years.
We have turned to zoom for our meetings which has meant that some of our elderly members have not been taking part so much in our activities and meetings. We found ways of working round it such being unable to have gatherings during the lockdowns we made Peace poppy Wreaths to mark some occassions which were placed at the War Memorial.
We obviously were unable to have face to face meetings and took to zoom, and when the rules were lessended we had distanced outdoor events.
We followed the rules…!
We muddled thru
Yes – we were unable to meet and kick off our garden's development. but actually once the outside and not souch big rules came in it became a great place for us to be with other people/ not at home in our bubbles – a real lifeline.
yes, we were closed to the public during lockdowns.
Yes. Online for a period. Usual funding challenges.
Covid has badly affected our activities, financially and morally.
It meant we could not meet weekly to support each other. When we took it online our membership dropped because most of our members could not afford Internet credit.
Reduce the number of students joining classes
Significantly.  Very few of our members have access to cars, so we rely on public transport which some people were wary of.  Many of our meetings are purely social (meeting in cafes, etc) but we did have regular zoom meetings, and also skype which allows several landlines and mobile phones to be rung simulateously to allow group chats.  Included quizzes etc.
We are an generally an online, snail mail, social media organisation so Covid has affected our organisation only in as much as our Medical Conference which we hold on occasions had to be delayed
Face-to-face meetings were put on hold for a year or more, but committee meetings continued via zoom and the outdoor activities continued; our Centre was given over to a meal-producing team. Our small food bank outgrew our small centre, and we had to move to ever-larger premises to serve the growing need.
We returned to 'normal' as quickly as we could, and our planned Jubilee celebrations will hopefully remind everyone what is going on around them!
Has curtailed most of our activity for 2 years, but we are getting things going again now.
I think during covid cummunication was very much affected, but we did our best not to shut down
Obviously we had to meet via Zoom, but as a lot of our activities are done online/by correspondence anyway, it hasn't affected us as much as some other community groups.
People can not always volunteer due having covid.Some of are clients are still isolating even more so since the restrictions were lifted.
Yes.
Many groups went online and are now emerging and wanting to do stuff IRL.
Some have had their confidence affected and need greater support then previously.
We were unable to hold fundraising events in 2020 and our physical gardening activities were severely curtailed as we could not enlist volunteers to work in a group.
Reduced the number of face to face activities but this is increasing. Many of our service users are experiencing more poverty and inequalities since Covid.
Killed them. Just starting up again now.
We were online for a long time with fewer people accessing our services
We had to close for nearly 2 years and do online only. It has been hard to gain momentum  since being back but we are getting ther.e
Currently not affected.
We had all training & games cancelled during covid
We couldn't do much get togethers in 2020 &2021as we often do all year around.
Our in-person fundraising events had to go virtual.
Covid restrictions at first, now back to normal
Not anymore
activities ceased at the beginning of lockdown, then meeting by zoom, then hydrid meetings. We have lost a lot of momentum and not yet got back to where we were before
Yes, not able to meet in larger groups so much and having to do more outside. Not able to provide refreshments.
Stopped it but we came through
Stopped us from hosting in person events for a year
It has increased our work to a daily operation
Severely limited face-to-face meet-ups, now trying to return back to normal
Many staff homeworking. Distancing and other measures in place to reduce risk of transmission. Moving meeting with clients from in person to telephone or video. Additional expense for ITC equipment.
Had to host online events for a couple of years. Not as much fun. Stopped for a year, did some Zoom events, now back to normal
brought the church group nearer together by distancing on zoom
helped to destroy private  practices and I stopped running the CPD as we were not able to gather for sessions and for me, they did not work on zoom to achieve support and friendship and members did not renew subscriptions. Sadly now the committee are moving to go into liquidation
Panto went ahead with 3 month delay meant we lost good people who could not make the new postponed date.  also lost financially as a third of audience had covid on new date but did not on the original Jan date.
You were very good altering one banner and 3 posters thank you
It did
We have had to rethink our choice of venues as some are NOT well ventilated. We were set up in November 2021, after all the government restrictions were lifted, so it hasn't had much effect. We did cancel our gathering in January 2022, but have met monthly since then. We ask women to take a lateral flow test before each meeting and ensure that our meeting rooms are well-ventilated.
Hugely. Have only just begun to meet face-face again and to publicly campaign face-face. So, reduced need for Resource Centre as fewer events and fewer fliers.
Less people, more fear, less commitment
Yes, we haven't been able to put on our summer fair. No fundraiaing events for 2 years.
Not being able to hold in-person fundraising events for 18 months – severely restricted income
We were not able to hold any events until recently, so had 18 months of very limited fundraising.
Inability to meet up has resulted in smaller numbers
Delayed our party
We have had to stop our community gatherings – this was our first proper gathering since 2020
We cancelled almost all our fundraising in person events for 1.5 – 2 years
We couldn't have a summer fair in 2020 and 2021 – as this is our major fundraiser it was quite a blow.
Everything has been cancelled
We did not do large events for roughly 2.5 years. Only just had our summer fair which was the first thing apart from a few uniform sales.
Yes – we haven't been able to do any events for awhile so it's was great to organise and run our recent summer fete.
We've not been able to run nearly as many events as usual. Halloween disco was cancelled, Spring disco was cancelled… really glad we've been able to run the Summer Fete!
We had no activity for 2 years really, basically didn't have a PTFA.
n/a new team
We now work from home, only using the office one day a week. All of our volunteer/public engagement went online and we're only just getting back to face-to-face activities.
Our activities were reduced greatly.
During COVID lockdown we switched to online within a week. We tried desperately hard to stay engaged with our families by contacting them and when we were allowed to, visit them with care packages. Sending resources, crafts and even food workshop activities for the children to join in with via zoom!

Since the end of lockdown we bagan to meet again face to face, with a covid friendly style approach. Numbers steadily increased. Now we are back to pre-covid style clubs and our number of children we are reaching is increasing weekly. All our activities and sports are in full flow again and the children and young people are loving it!
Most activities fully back to pre covid, but also pressure to offer online/ hybrid now have so doing both is creating capacity challenges.
Tell us about a recent event where you used Resource Centre equipment
What was the event?
How many people attended?
How much money was raised (if it was a fundraising event)?
1. Fair in the Square in April – Table sale and tombola.

2. Platinum Jubilee event in June – Street party

750
1900
A Bingo night
50
A charity walk
100
£12,000
A global social club session in the park
25
N/A
A youth advocacy event
70
N/A
Adult Education 30 year anniversary celebration event
80
–
Annual youth football tournament
3000 across 2 days
£6,000
Children's party
40
N/A
Diwali Event
100
–
Family fun day
30
N/a
Football fun day
200
£450
Fun Days
400+
1200
Hybrid community meeting
15
n/a
Jubilee community event
200
None
Kids party field at festival
300-400 kids
N/A
Main one Garden Party
1500
12000
Many events citywide
400+
N/a
Most recently a series of internal hybrid meetings
12
n/a
One of our community engagement events at Community Base
85
£930
panto
500
Photography workshop
10
n/a
Picnic/BBQ with 2 art workshops
Over 190
Protest against poor provision of domestic abuse services in Brighton. Group meeting. Sisters Salon in June 2022
50 (total all events)
£220
Public event / demonstration in B7H as part of National NHS day of Action – we hired Tug of war rope and I think some PA equipment.
Core: 20. members of public, many more
–
Public meeting
18
School disco and summer fayre
230
4000
School fair
200-300
£2,600
School summer fair.
Don't know yet – it's this weekend!
School summer fayre
400
£3,000
Sports day
18
N/A
Street party
200
Street party for our 10th anniversary and the jubilee
180
£750
Summer arts festival
200
£1,200
Summer fair
200
£900
Summer fair
500
£2,000
Summer Fair
800
3000
Summer Fete
500
£3,000
Summer Fete
1000
5k
Summer fête
300
£360
team meetings, outreach events in the community
Oct-50
n/a
Volunteer Celebration
20
–
Walk for Wards 2022
200
We have used it for weekly youth groups and end of term parties, light party and Christmas Party.
50-80 children
Whitehawk Community Conf
200
Na
Comments
Comments about the Resource Centre
Thanks for being awesome! Keep up the great work 🙂
Really love the resource centre, helpful staff, reliable service, would recommend it to anyone!
very helpful
Always so helpful and a quick turnaround of printing
It's great. I find the online resources really helpful. Maybe a twitter account would be useful for contact too.
Thankyou for being there for us and for supporting the little groups.
really useful and straightforward service, thanks
Really efficient team with useful advice
Very grateful for this super resource.
Thank you for your valuable support and advice. I've had limited in person contact, but the communication I have had has been quick, clear and helpful. The general resources are also incredibly useful.
The Resource Centre is a a really asset to have in our community. I use it not only for this group but for other groups I work with. The information section of the website with downloadable documents and useful links is fantastic.
No, as far as I'm concerned they're fine.
No very happy with everything
The email system during lockdown was helpful
It's great. Quick, good prices, friendly, efficient, what more does one want.
You are an amazing resource for the communitites and groupsd that you work with. Your website is full of relevant and useful imformation as well as what you do F2F etc.

Great work!!!
Just that I am so glad they are there for local groups and charity organisations
This organisation is a huge benefit to all volunteer run community groups who Don't have an income yet strive to serve the community on a shoestring.
amazing  and helpful as always. Just learnt today that you know hire card readers too. such a brilliant idea. will spread the word. organising events for all those years would have been so much harder and more stressful hadn't it been for the RC
The staff did everything possible to accommodate our changing needs when they were printing some exhibition panels, booklets, leaflets and posters for us. We felt very grateful for their patience and help in arranging for us to pick up the prepared items during the pandemic.
Always reliable, affordable and massively supportive of small groups. City wouldn't be the same without them
Not really. Only used it a couple of times but has been brilliant each time.
No suggestions.

Just one comment – a fantastic team who get on together and are always very helpful!
have always received an exceptionally good service from the Resource Centre: they go above and beyond, helping with design, timescales and budgets. I honestly cannot fault them.
Only wish I found ages ago
We really appreciate the helpful suggestions about layout and presentation of our Newsletter.
That they are an amazing service who supports us and meny other community groups to set up and provide services for the wider area.
None. All seems fine as it is.
Always really helpful, responsive and friendly. A really valuable resource for Brighton!
More photos of equipment – although there are many.
They do a great job and are a hugely valuable service.
A cricket or quick cricket (I think it has a softer bat and ball) would be great to be able to add to resources available. Also frisbees.
Please don't stop doing what you're doing or make it more expensive! We work with many young people and different community groups and always refer them to you. We also couldn't have done our events without you.
The new system of having appointments for picking up and collecting is much better.  It avoids queues and also makes parking MUCH easier.

The only thing I would say is that there is perhaps a choice of times to return things as I had to come to work on a day off to return my equipment.
Maybe have another office for pick up n drop off
Just to say thank you, you are doing a great thing! We have only needed to borrow equipment a couple of times but it has been of a huge help and saved us a lot of money.
No all good!
It's amazing… thank you
You are doing brilliant work
Just that it's a wonderful service that makes so many things possible. I also love that your instructions on using equipment are always really clear and easy to understand and everything well labelled – thank you!
–
No just thank you for the diligent and kind way the staff are
Everyone is really helpful and friendly!
No.
I find them absolutely great. Have been going there just now and again for years. And always surprised by the care and thoughtfulness of staff. I should probably make more use of all the things offered would be my only change
Wonderfully friendly. It's really great to have a place where we can get our printing done as and when we need it. The huge range of equipment is also really useful, and helps to make our events run really smoothly. Thank you!
Staff so helpful and supportive – especially for those of us who are older and do not use the computer printing package regularly. I do realise it's not exactly part of the price package, but it's really helpful.
All good and helpful
Absolutely wonderful service! Thank you so much!
No, please don't ever stop doing what you're doing.
Brilliant resource well used and loved by our school
No. Everyone is super helpful.
Resource centre is brilliant for running events. The reasonable prices mean we are not spending loads of money on equipment which means we can make more valuable profit.  It's easy to book, and the staff are always friendly and helpful. Will definitely be recommending this service.
Items which would be really useful to stock:

tokens and raffle tickets
card machines
gazebos
PVC tablecloths

My team mate who came to pick up and then drop off the items said you were all really lovely and helpful, and you were quick to email back any amendments when we emailed. It's a real treasure to have you to hand and thank you for letting us book items out with you – the tombola and candy floss machine were both incredibly useful.
Only that it's an invaluable service and hope it never goes away.
Thank you for being there for the community! A fantastic resource to be able to have access to.

Maybe look at an online booking and paying system. It has been really beneficial having you take card payments. Not everyone has access to a cheque book these days.
Just wondered if there could be self check in/ out online and items left in lock box with code type thing for out of hours/ unstaffed collection/ return of equip hire.
Comments and suggestions about equipment for hire
Ping pong table
Being a Worthing provider we've not been able to access the resource centre. Hopefully moving forward the hire service will again extend to services outside of Brighton and Hove.
Jenga wasn't available, connect four too
maybe big portable Bluetooth speakers that aren't too heavy but still powerful and some battery packs /power banks to go with that . Extra mobile phones that could be used with the card machines or to stream music to during the events
Not sure, but for another group I am in, a projector would be a good option maybe?
Seen it in action I think its great
We tried to hire some equipment for the Queens Jubilee Celebrations, but were unfortunately too late.
I haven't hired any equipment for some time due to restrictions, but when I have supported groups to do so it has been a smooth hiring process, and events are always enhanced in some way by giant connect 4 and popcorn!
A more powerful PA system.
Just tables and gazebos… rain or shine every event generally needs some shelter.
Please keep doing what you're doing!
We wanted a bouncy castle but weren't allowed due to Covid restrictions which we thought didn't really make sense as contracting covid from a physical object which hasn't been in contact with anyone for at least overnight would be incredibly unlikely.
No, great
More big games!
More equipment. Update equipment some of it is technically old and other just looking tried.
The smoothie bike needs to be upgraded
A couple of times tables have already been booked out when i wanted them, so more of those would be good.

The facility to be invoiced or pay online would make life easier.

I would be ecstatic if you offered a delivery and collection service and would happily pay extra for this as usually have to book a taxi anyway. This would reduce the time taken out of my day to deliver/collect myself. Would happily pay a larger deposit to be returned at a later date to enable this.
enough painting cans for marking the field for our sports day but now sorted
We have hired card readers and data projectors. The card readers have been really useful to help us take donations at our gatherings. We couldn't use one last month because they were all booked out – so more card readers would be great!
Perhaps smaller and more portable PA equipment – when a large amplification isn't needed.
Bit more flex on return day. I could have brought back next day. Very helpful staff.
Bubble machine.
We should have asked if you have e-payment machines as fewer people carry cash now
Great to hire more items when available, as some limits on numbers
We normally have to book very early in order to get the smoothie bike and candy floss machine
Stronger exhibition boards would be great – something really sturdy, possibly with castors or something similar so that it can withold the weight of artwork + movement, and can be used indoors and outdoors.
A big, full sized 'Operation' game. Would love that  🙂
The service is invaluable to us as a youth group. A real value for money especially the candy floss machines!

If you were able to have more of the candyfloss machines and popcorn machines etc that would be good so that you are able to hire both at the same time.

It would be good if you could loan:
Circus skills equipment, (stilts for older children)
Sumo Suits
Stocks
Dance mats (Video game)
Comments about the print service
e.g. What are the reasons why you do your printing at the Resource Centre? Or why you don't? Is there a type of printing you currently do elsewhere that you think we should offer?
had business cards made that were also fridge magnets
Location not ideal to get too.  A long hill and no buses outside. Risk of getting Covid-19 also.
The service is affordable and often we can get things printed at short notice.
Affordable and rapid service
I've commented earlier on that we don't use the RC for litho work as there is a firm in town which is cheaper for the small runs we need and also delivers for free which is helpful. We do non-litho stuff with you because you are so quick, cheap and efficient.
oops what i said earlier in the survey- to be able to come in and print ourselves
We don't have the facility to print large colour posters and banners – or in volume.
Printing on fabric would be amazing.
It is by far and away the cheapest way to print 50 newsletters
The staff are so helpful they have been incredibly kind at taking into account our need to change things at the moment when necessary.

The cost is very competitive.

The print quality is good with a choice of colours.

It is close to where I live.

We like to support the centre rather than any commercial enterprise.
Can't fault the service.
No – all good
The printing service is really affordable and staff are super helpful.
Very appreciative of the help.  We mainly do our own printing because it is cheaper to do so, but also I love printing machines.  Honestly.
We do all our printing at the Resource Centre – it is very quick and remarkably inexpensive. It is also (relatively!) easily accessible!
The team do their best to provide exactly what we are looking for.
We do our printing at the Resource Centre because the cost is very reasonable, they always give good advice on design and paper size, weight etc, and the service is quick and very high-quality leaflets etc are produced.
Printing is reliable and at a good price
We are very happy that the Resource Centre edits, lays out and prints the articles and updates submitted by various community groups for the Coldean Newsletter.  This is a brilliant service, without which we probably wouldn't be producing a Newsletter at all!
We always use The Resource centre as they are so reasonably priced and actualy help us do the designs and format.
As far as we're concerned, for what we need, the print service is fine.
As mentioned in my first answer there were advantages to being able to do our own printing.
We usually use Solopress as the prices work out cheaper for the quantities we order.
I have never used your company for printing but will consider it in the future 🙂
I think a broader range of printing/lamenating services is a good idea since many people/charities can't do this 'in-house'.
Being able to email it over, be emailed back a pdf proof and then printing without being on site would be great. Large printing and different materials – e/g banners
Green printing….environmentally friendly ink etc.
We use our vice secretary printer to print all club items
We generally use Instantprint for printing as it is cheaper and they can deliver. We print A5 flyers and A6 postcards which I don't think we can do at the Resource Centre. Also laminated posters.
It is an amazing  service . The staff go above and beyond to get the job done and we are very grateful.
I think we can print just as cheaply ourselves given the volume. I have considered it for large posters, but to be honest I often forget!
Haven't done any lately I don't think, but are planning to do so.
no, happy with you
One thing I have noticed is that the Due East newsletter sometimes has poor print when the ink is running out. I noticed this in the past- but it has affected some things I was concerned with. I worry about it. And wonder how that can be overcome? It may have been already.
It's great to be able to produce printing with a full bleed, especially as we only need very small amounts at any one time. We couldn't get that elsewhere.
See previous comments. Some group members not confident with computer system, or just forget. Also, unfortunately, small run colour printing much cheaper elsewhere.
I didn't know you offered printing services
It's great! And very reasonable and reactive with last minute jobs
We do everything in house for convenience, our only print needs are posters for the summer fair and our photocopier can handle it.
We do sometimes print at school but would consider it.
I didn't know they had a print service
I didn't realise you had one but I will make sure to have a look. This is what we had printed for the fete and would look to have printed from the resource centre if it's affordable next time:

flyers
programmes
banners
posters and stall signs
the centre is too far away for me to get to easily so I use the school for printing
no, helpful, quick and reasonably priced
I was not aware of the print service.
We want to support RC services as  whole so encourage groups to print there
Comments about the information service and website
Your "responsive" on Twitter and FB is BRILLIANT!

World beating!
I think it's great and I have used it in another role I have with a small community group.
no its great and helps me to support groups
Could do with a refresh… but appreciate that costs money… if you did you'd have to put up prices of equipment – so I think we are happy with the website as it is functional, but could 'sell' the service and promote equipment better if it was more dynamic.
The website is a little old fashioned and clunky
Very good resources.
Well organised
Your resource has been of great benefit to us . Many thanks
I really love it. In another role on a PTA we used your info on becoming a charity and it was the best advice we found.
No I thought it was great
We used the information on writing a constitution and opening a bank account – both gave us very helpful pointers. We are also using your simple accounts system, which is ideal for our group.
maybe some more pictures of stickers & info on the credit card/business card style printing
Functionally works really well, easy to navigate, simple to use.

Think it looks a bit dated, could do with a refresh.
It has been very helpful to tap into when needed or for it to direct you to where to find out more information.
One thing you would change about the Resource Centre
Maybe an update of the look and feel of the website. It can feel slightly dated and doesn't necessarily do justice to the excellent content contained within.
Nothing comes to mind, the service has been great.
Opening/Closing times
OTT COVID protocols
Easier access in and out
Open every day of the week
Parking!
Absolutely nothing.
can't think of anything!
Parking access to collect equipment
I wish it were closer to me but then I am in Hollingdean but it is fine to make a visit into town but I have disabilities which limits my ability to do stuff and go distances.
location and parking access
Loading bays
To allow access for services outside of Brighton and Hove again.
None
Nothing
Parking for collection and return.
The parking isn't great at all.
It would be nice to have a Resource Centre on the West of the City but otherwise there is nothing I would change.
I wouldn't change anything – they have all the information we need.
Nothing
Nothing
Go back to being able to go in without appointments and get on with DIY printing & photocopying.
Make it closer to Hove!
Can't think of anything
An easier place to get to! We don't use the Resource Centre for litho work, there is a cheaper place in town that also delivers which is helpful.
Happy to come back and printing our selves
So far, I can't think of anything – they are so helpful
Better parking.
bit longer opening times – maybe once a week a later start and a later finish so that people that can do regular hours due to other commitments could use the space/services
Open more
I can't think of anything it seems to run very well, to have friendly helpful staff and I am lucky enough to live close by. They might like to have a have further financial resources to buy new equipment.
Get rid of the steep hill!
Nothing!
Hiring more staff to reduce the waiting list so we could get help earlier.
Maybe the location can be brought to central Brighton
It would be nice to be able to buy a cup of tea or coffee while working
Location! It would be helpful to us non-car-owners to be closer to the bus routes.

But seriously – not a big problem. Just stay as you are!
Can't think of anything; they are great.
Non stop coffee. There is nothing to change the Recource Centre is exactley what is needed for the community
We struggle to raise the funds for the administration costs, but recognise that we actually get a much better deal with the Resource Centre than we'd find anywhere else!
Nothing
I can't think of anything.
Prior to the restrictions of the pandemic we were able to do parts of the work ourselves i.e producing newsletters/posters and this enabled us to keep costs down and manage the time well. It would help to be able to do this again, although appreciate there are probably benefits to managing the work under the 'new normal'
Easier loading and unloading spaces. Occasionally it has been difficult to park and we've struggled carrying equipment.
Nothing
More availability of the more popular equipment. I am not sure however how viable that is so maybe folks like me just need to book earlier!
Have a cargo bike delivery service/partner with one to deliver resources locally
It could be a little more modern in terms of technology/pay deposit etc perhaps a greater range of resources? We mostly only use the equipment hire and printing service. These are small things – the fact that you are still here seems such a wonderful thing!
Cheaper printing.
Greater flexibility with appointment times for picking up and returning equipment.
For us it's a bit of an awkward place to get to for pick up & drop off.
Nothing we can think of
Nothing that I could think of. They are superhelpful.
A bit more flexibility with collection and drop off times
Happy with all
The Parking outside!
can't think of anything – apart from make it at the bottom of a hill instead of the top
Parking location!
More equipment
It was open more often
I would love it if you delivered
Have a cafe area, so we could just hang out.
when booking equipment and it rains and not used to have some kind of refund on rebooking the same items
Nothing!
It's fine as it is
Flexibility of check out and return times. They (the staff) were paid more
You probably can't do this…but sometimes we go to online printing for colour leaflets as they are so much cheaper. It's just the way it is for tiny campaign groups with no money. (We still do printing and hire equipment from you!)
More flexible at times/days of bring back – screen is heavy, could have brought back next day. Takes space in my small flat!
The Resource Centre is an amazing place. It allows us to put on fun events. I wouldn't change anything, just very grateful you are there! Hope you are able to continue long in to the further. Thank you. More time slots 🙂
Sometimes tricky to park to collect / drop off equipment
Nothing
Deposit is too high for smaller/single items
Wider selection of items
Access is quite tricky
Ideally we'd pick up and drop off any time but completely understand the need for slots
Nothing. The Resource Centre makes so many things do-able for so many community groups, we quite literally could not do without them.
I have been using them for 10 years at 2 schools, not just the equipment, but also the information sheets available for setting up groups are completely invaluable.
Allow for drop off or pick up without time slots to allow for greater flexibility
I would move it closer to me… 😁
Easier access to load the car
Better parking 🙂
Having a free spot to park up on when collecting and returning equipment.
It would be good if you had more items for hire so that their are fewer restrictions on hiring certain fare supplies. You just want to hire it all, its so good!
More accessible access.