Our achievements 2018-19
Who uses the Resource Centre?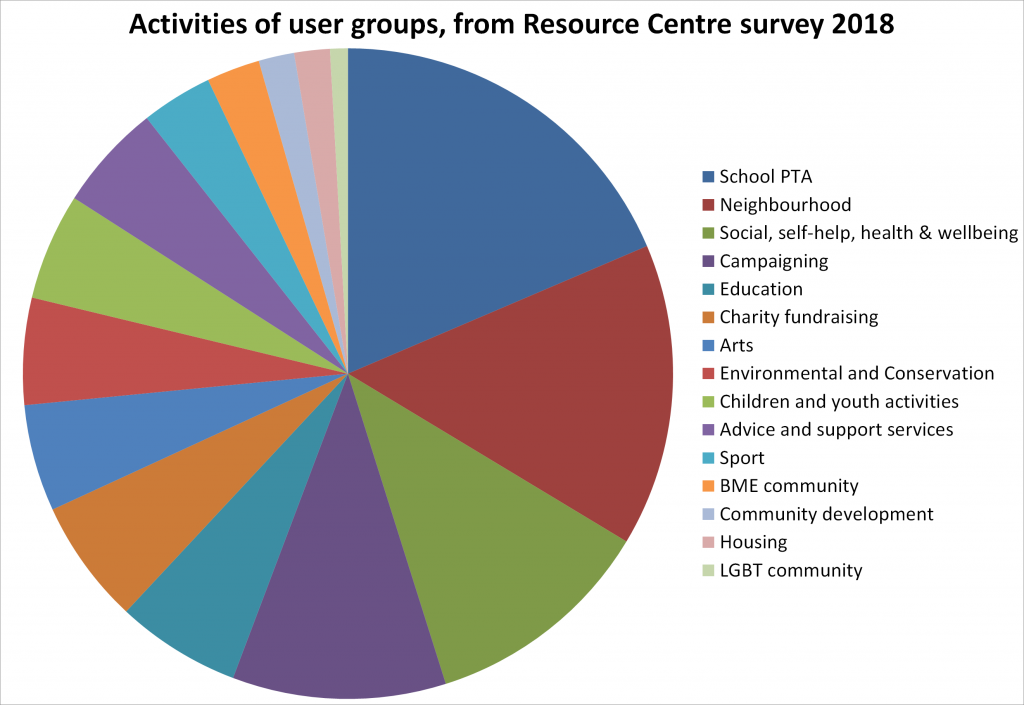 834 different groups used the Centre in 2018-19. While this is around the same number of groups as in the previous two years, this does not mean the same 800 groups are returning each year. In fact, over the last 3 years, the Centre has been used by a total of 1,580 different groups. We are proud to be part of a dynamic and vibrant community sector in the city, and pleased that our services remain useful to both longstanding and new groups.
Our 2018 survey asked groups about their own activities and found a dazzling variety of activities, as shown in the pie chart above. Small community groups take action in all parts of the city to bring people together, organise events, improve neighbourhoods and boost health and wellbeing.
Our users are very diverse, but they tend to have some things in common. Most of our user groups rely entirely on the commitment of volunteers. Small, self-organised groups are remarkably efficient, flexible and knowledgeable. They have a unique ability to solve practical problems while enabling people to learn new skills and gain a sense of empowerment. The Resource Centre's services are designed to give busy group organisers the tools and backup they need.
Sharing resources for city and planet
The Resource Centre provides a central pool of equipment for groups to share. This helps groups keep their costs down and means they don't have to worry about repairing or storing their own equipment. Each item of equipment is used multiple times during the year, maximising the use of resources and helping to reduce the city's impact on the environment.
Items of equipment were hired 1,921 times in 2018-19, for use at 776 community events. That's nearly 15 events for each week of the year.
Our case study on fundraising events shows that groups using our fundraising equipment raised an estimated £500,000 at their community events in 2018.
As well as fetes and fairs, our equipment enables groups to run meetings, parties, play activities and all kinds of get-togethers.
Sharing technology, boosting confidence
The Resource Centre's busy print room acts as a shared office and work space for the city's small community groups. Groups can use computers at the Centre for free, to design their own publicity materials and other communications, and then immediately print what they need, with support from our staff team.
395 groups used the print room in 2018-19, producing over 750,000 printed pages between them during the year.
Our case study of one regular user group – Brighton & Hove Independent Mediation Service – shows how the print room helps groups to become confident in the use of print and computer technology without taking time out from achieving their own aims.
Sharing knowledge, learning from each other
Demand for our advice and information service continues to grow. In 2018-19 we supported 160 different groups with:
287 conversations at the front desk. This is a drop-in service, available to any not-for-profit group based in Sussex.
237 longer one-to-one support sessions for member groups.
We can support groups with any issue they are facing. In 2018-19, our support sessions covered 55 different topics, including:
Drafting funding applications and finding sources of funding
Book keeping advice
Producing reports for funders
Drawing up budgets
Communication support for groups who face language barriers
Legal structures
Help to use print and computing technology
Roles of officers
Working together in a group and resolving disputes
Registering with the Charity Commission
Starting a new group and writing a constitution
We also carried out 80 free examinations of accounts and 290 pieces of design and print work for member groups.
We helped 9 groups make 21 applications for funding. 18 of these applications were successful, raising a total of £61,819. This was 80% of the total amount applied for.
Every conversation we have with a group helps our staff to learn more about what groups need and the solutions that work for common problems faced by small community groups. We share this knowledge for free on our website. The information pages of the website were visited over 500,000 times during the year.
Further information
For all the facts and figures about usage of the Resource Centre in 2018-19, see our Detailed usage figures page.
This page updated August 2019